Peyto Lake, Alberta Canada Photography Hot Spot
Can you see the wolf image in the lake?  Peyto Lake is located at Bow Summit along the Icefiesds Parkway in Alberta, Canada. It is a glacier-fed lake located in Banff National Park in the Canadian Rockies, near Lake Louise. The lake itself is easily accessed from the Icefields Parkway and is best seen from Bow Summit, the highest point on the Parkway. The exquisite turquoise color of the water is due to the glacial rock flour, which flows into the lake and the particles from the rock flour 'paint' the water a vivid turquoise! This lake is named for Bill Peyto, an early trail guide and trapper in the Banff area. This lake is a stop along the icefields Parkway but it is a location that you will not get many different image from.  There is an overlook that you walk down to from the parking lot and view the lake.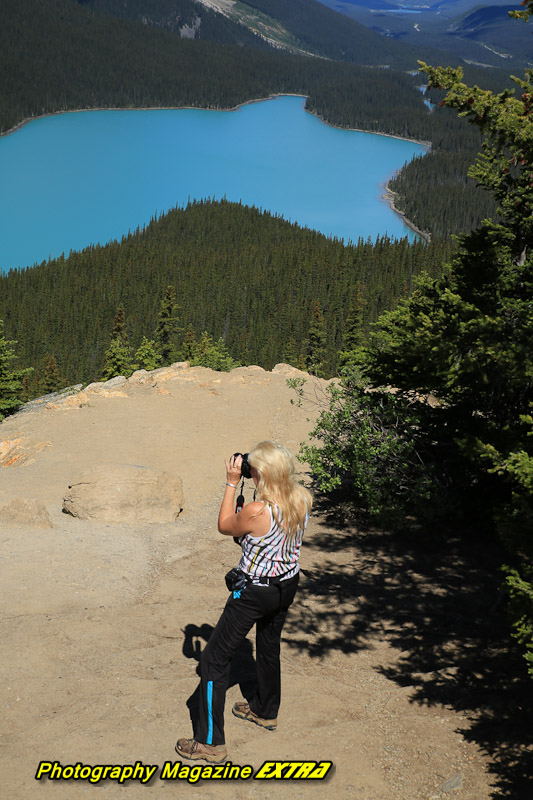 A rare image of Photography Magazine Extra owner, International award winning photographer Pamela Goodyer taken by Tom Gross.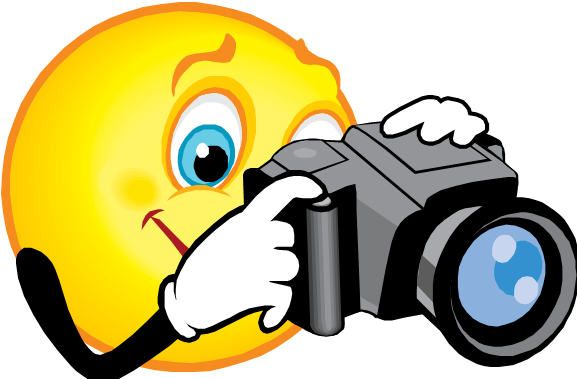 Photography Information:
This is photo stitching location for sure. There is only one spot to view the lake from and it's not far enough back to get an image like above.  That is 6 images stitched together. Of course we used a circular polarizing filter to keep the reflections off the lake as we did our six shots. This location should be done on your way to your next stop either north or south on Icefields Parkway.
Camera Settings: You can shoot in aperture priority here but make sure your ISO is high enough so you do not go below 1/40th of a second. You will need a tall tripod to shoot on or you can climb over the railing and get it out of your way. There are crowds here so try early morning or late in the day for this hot spot. It's pretty much a one shot location.
When you pull out of the driveway of the Summit there is a cool spot on the street with some water so you can get some get a few shots there with the reflections of the mountains in the water. Use your circular polarizing filter to remove the silver glare and get them.
Camera Settings

Aperture Priority: – It is generally used to get your depth of field (control how much is in focus from your subject back). You will want to do some shots at hyper focal distance. That means your subject to infinity is in focus. Most formulas of hyper focal distance, which are very complicated, lead you back to f8, f11 or f13. If your shutter speed drops to 1/30th sec. or lower you will need to put your camera on a tripod. The higher the f number the less light that will come in and your shutter speed will drop to let more light in.

When doing certain shots such as flowers, you might want the opposite effect. That is when your subject is in complete focus and the background is totally blurred called the bokeh effect. You will use your lowest F-number such as 2.8, or 3.5. Go as low as your particular lens will allow.
Shutter Priority: If you have moving subjects such as the birds flying by you want to shoot in shutter priority to be sure they come out clear. When people are walking through shoot at 1/250th sec. and adjust your ISO accordingly. If people or animals are running by increase your shutter speed to about 1/500th sec and if it's a bright sunny day, go as high as 1/1000th to 1/1200 sec. to get the birds crystal clear as they fly by here.
Manual Mode:  To do your long exposure running, milky water shots you will have use a tripod.  All of your settings will vary depending on the lighting and what neutral density filter you have. You will shoot in manual mode for the milky waters. ISO is always 100 or as low as your camera will allow. Aperture is  f22. Your shutter speed will vary depending on the light. Take some test shots to decide on your shutter speed after you put your neutral density filter on. (It's like sun glasses for your camera to stop light from coming in). Use your live view mode to focus to lock the mirror up and avoid any camera movement. Use your shutter release or your 2 second timer to also avoid camera movement. Voila. You now have your milky water exposure. You want at least a 2 second exposure for running water. If you don't have a neutral density filter you may not get more than 1/15th of a second in the sun. Go to our store to buy your ND filter. I have a 3.0 for super long exposure in sunshine.
Read more on our Photography Techniques Page
If you don't have a neutral density filter you can buy one here.

Park Information:
Bow Summit is where the Peyto Lake Lookout is located. Watch for the sign marking the Bow Summit as you travel on the Icefields Parkway. When leaving Lake Louise it is an approximately 35 minute drive north up the Icefields Parkway.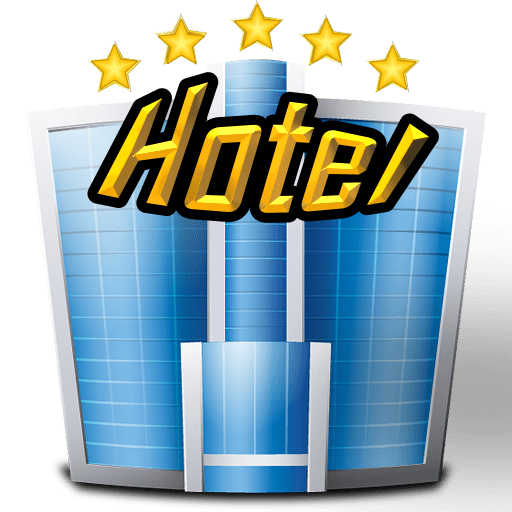 Hotel Information:
Peyto Lake is pretty far from any major destination. It is a stopping point along the way from one spot to another.  It's not a location you should plan on spending too much time at to do photography. There is one overlook to take some images and that's it.
PAM'S PICK – Simpson's Num-Ti-Jah Lodge – Phone: (403) 522-2167
This is the closest hotel in the area of Petyo Lake located on the Icefields Parkway. It's a good stopping point at the end of the day between Yoho/Banff and Jasper. There is nothing else around this hotel except for an incredible lake area behind the hotel/restaurant. We got some unbelievable pictures behind this hotel. I would stay here for the location along with the super cool atmosphere.
Check out some of our pictures on the Front page of our website here: www.extraeyesphototours.com – The blue mountains are behind this hotel.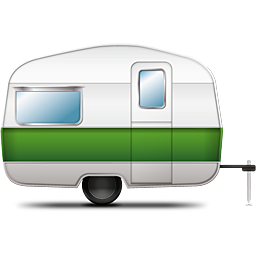 Camping:
Waterfowl Lakes Campground is north of Peyto Lake. It is open June 26th to December 7th.
No cell phone access at Waterfowl Lakes Campground or any campgrounds on the Icefields Parkway.
There are food lockers for walk-in campers.
There are 3 dry toilet facilities and 1 washroom with hot and cold running water and flush toilets.
The maximum people per campsite is 6. Maximum 1 RV per site.
All vehicles (maximum 2) and tents must be set up or parked on the gravel area of the campsite.
There are picnic shelters in this campground
Find Waterfowl Camping information here.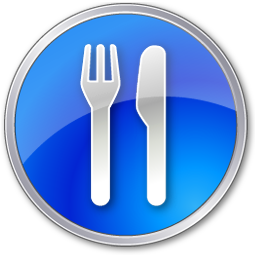 Restaurants:
There aren't any restaurants or any place to get food or even snacks near this location. Make sure to bring your own. I met a lovely couple from England in an RV in the parking lot when I was here. I was asking where I could find the nearest store or restaurant. The were so kind. They invited me into their RV and made me a sandwich. It appears that I was unprepared this day on my journey north on The Icefields Parkway.  The closest food is at the hotel/restaurant stated above in our hotel section.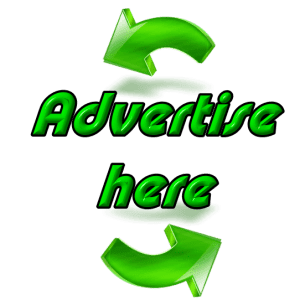 Advertising:
To view our advertising information please go here. To have your hotel, restaurant, campground or other business listed on this page on you can purchase here. You can also purchase a more visible, top of the page banner ad below. Please put the name of the page as seen above so we know which page to place your ad or listing on. Thank you!
• Loaded Business Listing – 3 Images, full contact information, 75 words of type, logo, link to website, all company info.
• Basic Business Listing – Full contact information, logo, name, address, telephone, fax, e-mail and a link to your website.
• Simple Business Listing – Full contact information, Company name, email, address, telephone, fax.