Pocono Waterfalls – Pennsylvania
Hotels – Dining – Photography Hot Spots – Maps – Gallery Image Slideshow
Home>Pocono Waterfalls and Mount Haven Resort
The Pocono area is a great location for long exposure waterfall photography. We also like this area for dark skies night photography. It's not the darkest skies but its pretty good. When we go here we stay at the Mount Haven Resort which is right in the middle of the waterfall area.
Bushkill Falls is the obvious waterfall location in the Poconos area but it is not ideal to bring a tripod and fight the crowds at this busy tourist attraction. We like the off the beaten path waterfalls like this one to the right where on a hot summer day we only encountered about 10-12 people in the park. We also like the waterfalls that are not far from the parking lot. After all, we are photographers, not hikers. Don't get us wrong, if the shot is out there and it's dynamic we will hike to it but we do prefer to spend out time photographing. Not hiking.  There are six good waterfalls in the Mount Haven Resort area that are not too far of a hike off the road. That's why we like to stay at the resort. It's in the center of all of our waterfalls.
You will pass by Raymondskill Falls on Raymondskill Road on your way to Mount Haven Resort and Restaurant.  UPDATE: 2017 – Mount Haven Resort has been sold and is currently closed. 🙁 ) When using your base camp as Mount Haven your first waterfall is only a mile or two from your resort.  We enjoy this resort tremendously. You will not find a better bang for your buck than at Mount Haven, one of our favorite run away locations. This is where we always stay when doing Pocono waterfall photography. This family owned business has been doing a fine job at running the resort and restaurant officially since 1973. Grey Towers is less than 15 minutes from the resort for a nice tour and some good architecture photography.
Geographically, Milford is a town of many edges.  It winds along beside the Delaware River, hugging the New Jersey state line where it meets Pennsylvania and New York.  It is in the foothills at the edge of the Pocono Mountains and adjoins the Delaware Water Gap National Recreation Area."
— New York Times,
Aug. 9, 2002
The restaurant is also fantastic for breakfast, lunch or dinner. On one of our visits, we did the all you can eat buffet which was out of this world! You can clearly see why this restaurant gets jam packed at dinner time.  They have a carving station and even an omelet bar for breakfast.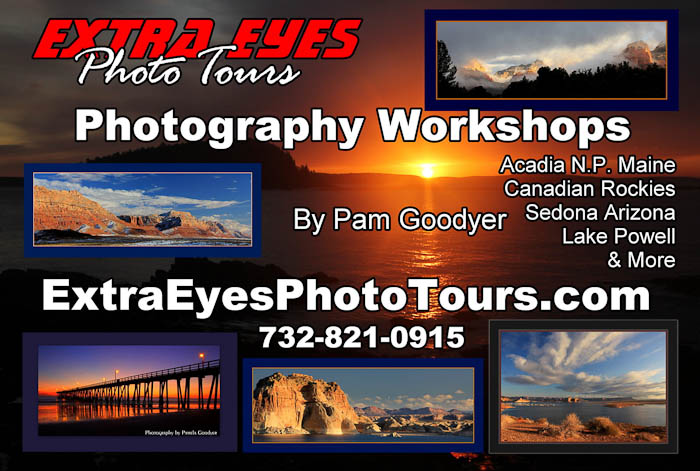 Join award winning photographer Pamela Goodyer for this Poconos Waterfall Workshop Weekend.  June 2018 – Click image for details. Save Early Bird Registration Special.
After spending three years and $2.9 million on a major renovation, the National Park Service has re-opened the sublime Child's Park to visitors. This is a top waterfall location in the area. 321 Silver Lake Rd. Delaware, Pa. just a short 6 miles from Mount Haven Resort our base location.

The park now includes accessible trails and picnic sites, new, modern-looking restrooms in the main parking lot, new stairways, and new overlooks from which to view the falls. There are a few falls here that can be viewed from different angles.
I made some friends here and they took my picture with my camera. I liked this spot. There were only a few people here on a weekend and not enough of them to get in the way of my long exposure photography. 🙂
You will want to photography Dingman's Falls. Two falls are located here by the visitors center. The one year there was a nest of baby birds they pointed out to us.  224 Dingmans Falls Rd, Dingmans Ferry, PA   (570) 828-2253
Local Dining
Mount Haven Restaurant
108 Mount Haven Drive,
Milford, Pa.
Milford Diner
301 Broad Street, Milford, Pa.
Area Campgrounds
Dingmans Campground
1006 Route 209
Dingmans Ferry, PA

Otter Lake Camp Resort
4805 Marshalls Creek Road
East Stroudsburg, PA
800-345-1369

Outdoor World – Timothy Lake North
Timothy Lake Road
East Stroudsburg, PA
570-588-6631

Outdoor World – Timothy Lake South
Timothy Lake Road
East Stroudsburg, PA
570-588-1617

River Beach Campsites
Box 382 Route 209
Milford, PA
Area Cabins and Lodges
Malibu Dude Ranch
351 Foster Hill Rd
Milford, PA
(570) 296-7281

Milford Motel
591 Route 6 and 209
Milford, PA
(570) 296-6411