Construction zone. Almost done. Please stop back.
California Photography Hot Spot Locations
http://photomagx.com/wp-content/uploads/2015/06/PhotoMagX_op-0460-2.jpg
438
1000
admin
http://meek-badge.flywheelsites.com/wp-content/uploads/2015/11/325w-342dpi.png
admin
2015-06-14 22:39:53
2016-11-19 13:16:31
Channel Islands National Park Photography
http://photomagx.com/wp-content/uploads/2015/06/IMG_9194-Edit.jpg
467
700
admin
http://meek-badge.flywheelsites.com/wp-content/uploads/2015/11/325w-342dpi.png
admin
2015-06-14 22:11:51
2016-11-19 13:20:53
Thousand Palms Oasis Photography, Ca.

The Big Sur ("Photo by DAVID ILIFF. License: CC-BY-SA 3.0")
Big Sur is a remote area accessible only via Highway 1. The easiest and most common way to get there is by car, though some enthusiastic adventurers cycle along the highway. Gas stations are far between and gas is expensive, so best to have plenty of gas when you enter the Big Sur region.
From San Francisco take US-101 south to CA-156 west which merges with Highway 1 20 miles from the beginning of the Big Sur area. Approximately 125 miles and 2-3 hour drive.
From Los Angeles take US-101 north and exit onto Highway 1 toward Morro Bay/Hearst Castle which is 45 miles south of the end of Big Sur. Approximately 250 miles and 4-5 hour drive. Photo by [Trey Ratcliff]
We will be here in December 2015 to give you every last detail.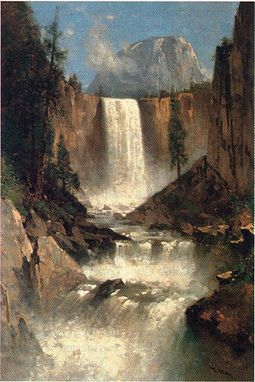 "Vernal Falls, Yosemite, by Thomas Hill, 1889" by Thomas Hill
Yosemite Valley represents only one percent of the park area, but this is where most visitors arrive and stay. The Tunnel View is the first view of the Valley for many visitors and is extensively photographed. El Capitan, a prominent granite cliff that looms over Yosemite Valley, is one of the most popular rock climbing destinations in the world because of its diverse range of climbing routes in addition to its year-round accessibility. Granite domes such as Sentinel Dome and Half Dome rise 3,000 and 4,800 feet (910 and 1,460 m), respectively, above the valley floor.
The high country of Yosemite contains beautiful areas such as Tuolumne Meadows, Dana Meadows, the Clark Range, the Cathedral Range, and the Kuna Crest. The Sierra crest and the Pacific Crest Trail run through Yosemite, with peaks of red metamorphic rock, such as Mount Dana and Mount Gibbs, and granite peaks, such as Mount Conness. Mount Lyell is the highest point in the park, standing at 13,120 feet (4,000 m). The Lyell Glacier is the largest glacier in Yosemite National Park and is one of the few remaining in the Sierra Nevada today.
By Jim Bahn (Sherman Tree Uploaded by hike395) [CC BY 2.0 (http://creativecommons.org/licenses/by/2.0)], via Wikimedia Commons
Sequoia National Park is a national park in the southern Sierra Nevada east of Visalia, California, in the United States. It was established on September 25, 1890. The park spans 404,064 acres. Encompassing a vertical relief of nearly 13,000 feet, the park contains among its natural resources the highest point in the contiguous 48 United States, Mount Whitney, at 14,505 feet  above sea level. The park is south of and contiguous with Kings Canyon National Park; the two are administered by the National Park Service together as the Sequoia and Kings Canyon National Parks.
The park is famous for its giant sequoia trees, including the General Sherman tree, one of the largest trees on Earth. The General Sherman tree grows in the Giant Forest, which contains five out of the ten largest trees in the world. The Giant Forest is connected by the Generals Highway to Kings Canyon National Park's General Grant Grove, home to the General Grant tree among other giant sequoias. The park's giant sequoia forests are part of 202,430 acres of old-growth forests shared by Sequoia and Kings Canyon National Parks. Indeed, the parks preserve a landscape that still resembles the southern Sierra Nevada before Euro-American settlement.